Moroccan Tours
We provide personal service, attention to details and friendly Berber hospitality
Where local expertise and flavor meet western service expectation and attention to detail
Experience Genuine Morocco
Visit The Lush Draa Valley
With Your Moroccan Experience professional team
Where local expertise and flavor meet western service expectation and attention to detail
Experience Genuine Morocco
Experience The Old Fishing Port of El Jadida
With Your Moroccan Experience professional team
Where local expertise and flavor meet western service expectation and attention to detail
Experience Genuine Morocco
The Amazing City Of Chefchaouen
With Your Moroccan Experience professional team
Where local expertise and flavor meet western service expectation and attention to detail
Experience Genuine Morocco
A Touareg Adventure In Jebel Beni
With Your Moroccan Experience professional team
Where local expertise and flavor meet western service expectation and attention to detail
Apartment
In all of the major cities in Morocco you can rent an apartment. Many clients arrange for their own rental apartments through AirBnB or similar sites. However, we can also arrange an apartment rental in various cities and some smaller towns.
Berber Bivouac (Berber Tent Camp)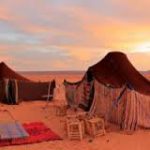 A traditional Berber black tent made of camel wool or goat hair. Good for a very authentic, rustic experience in the desert.
Boutique Hotels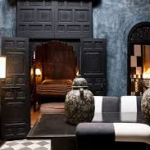 "Boutique" hotels are built with a high regard to traditional Moroccan architecture and materials and are often conversions of old houses. Some of the newer boutique hotels combine traditional and modern elements with beautiful results. Some of the best are collaborations between European and Moroccan proprietors.
Guest House
Usually a guest house mean a private residence that has been converted into a small and charming hotel. Sometimes a guest house is built specifically as a small boutique hotel.
Kasbahs
A Kasbah is a fortress or medina that was used as secure location to withdraw to when the town was under siege. It usually has high walls and four towers. Local lore is that each tower was for one of the leader's wives.  Some of these historical structures have been converted into accommodations for travelers.
Luxury Tent Camp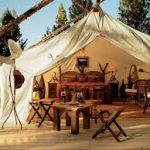 Luxury tent camps are often white, luxury tents with a full suite inside each tent, including en suite toilet and shower facilities. The camps are often strewn with beautiful carpets, pillows, lanterns, hammocks, private dining facilities, entertainment and more.
Maison D'Hotes
Another way of saying guest house. Sometimes connotes accommodations where you actually reside in a house that has been converted into a small hotel where the family lives.
Auberge
Auberge meaning Inn or lodge, these are typically small, rural hotels, sometimes referred to as a Gite. They can be quite charming and are often located in more remote areas surrounded by natural beauty.
Dar
Dar means home in Arabic. It usually refers to a smaller home found in a medina that does not have a garden in the center courtyard. These homes are often used as small guest houses.
Eco Lodges
Structures built using sustainable materials as much as possible, minimizing the effect on the environment and working with the local population.
Hotels
There are a few standard hotel chains in Morocco, mostly of European or local origin. For the most part, we do not work with these hotels as the other options are usually more desirable and competitively priced.
Luxury Hotels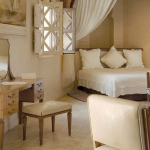 Many of the 4 and 5 star hotels found in the US and Europe have properties in Morocco in the larger cities.  These properties are often sumptuous and elegant. They typically provide services and amenities not found in some smaller properties.
Luxury Villas
Large luxury city or country houses often complete with a garden, pool and/or other amenities.
Riad (Ryhad)
A riad is a traditional Moroccan house or palace with an interior garden or courtyard.  In the cities, staying at a Riad is a great way to go. They are typically much smaller than a hotel, often with 4-10 rooms over 1-4 floors. You receive personal and friendly service from the proprietor and their staff.  Your stay at a riad normally includes breakfast and in some places dinner as well. You get a real sense of living like a Moroccan in days gone by while staying at a riad. Even in some standard riads you will feel like you are living like royalty. However, riad's may not have certain amenities that you require, such as an elevator, television in the room, gym, business center or restaurant.
Accomodations Types
Apartment
Auberge
Berber Bivouac
Boutique Hotel
Dar
Eco Lodges
Guest House
Hotels
Kasbah
Luxury Hotel
Luxury Tent Camp
Luxury Villas
Maison D'Hôtes
Riad