Moroccan Tours
We provide personal service, attention to details and friendly Berber hospitality
Where local expertise and flavor meet western service expectation and attention to detail
Experience Genuine Morocco
Visit The Lush Draa Valley
With Your Moroccan Experience professional team
Where local expertise and flavor meet western service expectation and attention to detail
Experience Genuine Morocco
Experience The Old Fishing Port of El Jadida
With Your Moroccan Experience professional team
Where local expertise and flavor meet western service expectation and attention to detail
Experience Genuine Morocco
The Amazing City Of Chefchaouen
With Your Moroccan Experience professional team
Where local expertise and flavor meet western service expectation and attention to detail
Experience Genuine Morocco
A Touareg Adventure In Jebel Beni
With Your Moroccan Experience professional team
Where local expertise and flavor meet western service expectation and attention to detail
Aït Benhaddou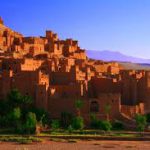 Aït Benhaddou (30 min north of Ouarzazate) is located in the foothills of the High Atlas and is a UNESCO World Heritage Site. The ksar (being a group of dwellings) is a striking example of southern Moroccan architecture, the earthen construction techniques dating back over 1,000 years. Setting for Lawrence of Arabia and other epics, it is the most visited Kasbah in the region.
Telouet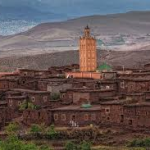 Telouet (30 minutes south of Tizi n'Tichka pass) is a rambling and decaying Kasbah built in the 1800s by the Glaoui family who ruled the Drâa Valley until Morocco's independence in 1953. Never inhabited, the interior reveals mosaics and intricate woodwork that could compete with the Bahia Palace. Very few tourists visit it, and well worth the trip.
The Draa Valley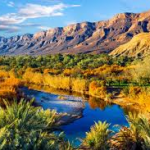 The Draa Valley from Agdz to Zagora is home to 3 million date palms; over 9 million kilos of dates are harvested each year. Also known as 'Valley of the Kasbahs', it's full of crumbling kasbahs. The Drâa River rises in the High Atlas and used to run through the desert to Tan-Tan on the Atlantic coast. However, with the creation of the dam in Ouarzazate and encroachment of dunes in the desert, it now only flows until Zagora, and in freak weather conditions to M'Hamid and the desert.
Tamnougalt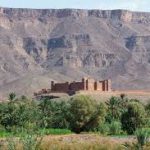 Tamnougalt, just 10 minutes south of Agdz, was built in the 16th century and is one of the oldest mud brick ksars and is well preserved. It's a seamless blend of Arab, Andalucian and Berber Jewish architecture.
Tamegroute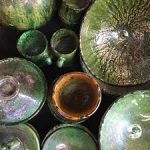 Tamegroute, 15 minutes south of Zagora, has been a religious centre since the 11th century. It houses 4,200 original manuscripts in the library of the zaouia (Islamic religious school). Tamegroute also produces a distinctive green pottery, introduced by the founders of the religious brotherhood Naciria, and which you can see being made in its toasty kilns.